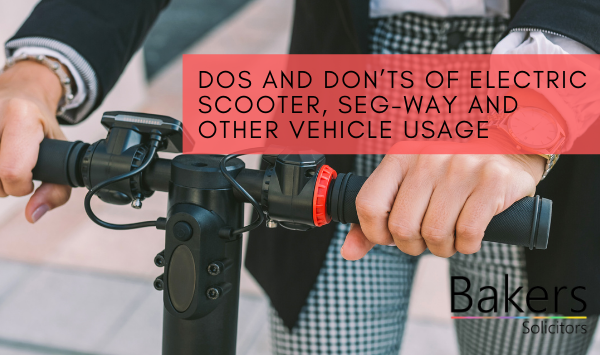 Dos and Don'ts of Electric Scooter, Seg-way and other vehicle usage
With the summer coming to an end and the longer evenings drawing in, finding ways to get outside for wellbeing and having a bit of fun becomes trickier.
One of the more recent crazes for adults has been buying an electric scooter. This can be a great mode of transport for fun or for purely getting from a to b.
Whilst an electric scooter has its element of fun, we do need to be aware of our responsibilities when using our electric scooters. The government uses the term Powered Transporter for an electric scooter, hoverboard or seg-way. As these are powered by a motor, they are classed as 'motor vehicles'. This means that they will be subject to the same laws as motor vehicle restrictions like your car or motorbike.
Similar to your car and motorbike ownership, you may need the correct category on your driver's licence for road usage and you will need to pay tax, have insurance and where applicable, have a valid MOT.
Currently, as it stands, electric scooters are not allowed to be used on public roads as a mode of transport. They are undergoing governmental trials to review whether they can be considered safe to use on our public roads and whether we can use them similar to bicycle allowances in the future. So at the moment, you can only use an electric scooter on the road legally if it is rented as part of government-backed trials in certain areas.
You also should be aware that you are not legally allowed to use your electric scooter in public parks currently unless there is a specifically designated area.
For most powered transporters, you are not allowed to use these on public paths either. However, if you have an electric bicycle, you can use these on the roads adhering to cycling regulations. These are known as Electrically Assisted Pedal Cycles (EAPC) and can be used by anyone aged 14 years or older.
Regardless, if you are unfortunate to have an accident that is not your fault you will still be entitled to compensation.
At Bakers we pride ourselves on our experience in representing claimants who have been injured through no fault of their own, helping them to receive compensation that they are properly entitled to. Our professional, friendly claims team will give you an honest, free and 'plain English' appraisal of your claim and we love delighting our clients when they receive the injury compensation they deserve.
If you would like us to handle your personal injury compensation claim, you can contact us online or by phone on 01252 744600.