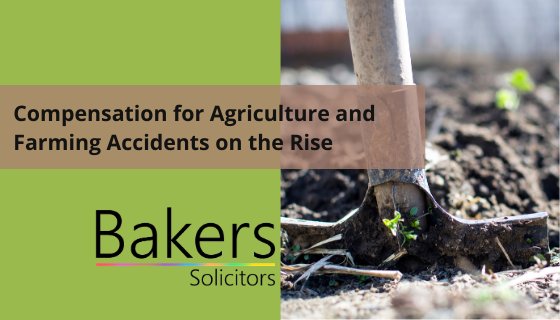 Recent data highlighting the rising cost of compensation for agricultural and farming-related accident injuries has emphasised the vital importance of always having the right level of insurance cover in place.
Compensation payments for farming accidents are generally awarded from two main types of claim. Firstly, there is compensation paid for injuries suffered by farm workers and employees from a wide range of accident types including falls from height, use of equipment and machinery, vehicle collisions, being hit by falling objects, chemical or pesticide exposure and injuries caused by animals and livestock. This type of claim will usually be covered under the Employers Liability section of a farm's insurance policy. Secondly, there are also claims made my private individuals who may be injured whilst accessing farmland using public rights of way, often for recreational purposes. This type of claim will usually be covered under a farms Public Liability insurance.
Increased Claim Payments
Whilst farming and agriculture in the UK accounts for only 1.5% of the total workforce (around 475,000 people), in recent years there has been a marked increase in the level of compensation being awarded for some claims. At present, there are several personal injury claims progressing through the courts that are likely to settle for between £10m and £20m, and the current UK record amount awarded is just shy of £37m.
Recent changes in the law surrounding compensation claims are driving the increases in compensation, especially the larger lump-sum awards for people requiring ongoing, lifetime care. Previously, an allowance was made for investment income on top of a lump sum award, but with interest rates at an historic low, coupled with low investment returns, government guidance has seen courts increasing the levels of the initial lump sum. With many insurance policies having a maximum indemnity limit of £10m, any claim made that exceeds this limit could prove to be calamitous for a business, as a higher award of compensation can be enforced against a business's assets for limited companies or against personal assets for partnerships or sole traders.
Insurance industry experts have voiced concerns that many farms, some of which are employing 50-100+ staff, still only have £10m Employers Liability cover, which has been described as 'woefully inadequate.' Farm owners are also being encouraged to factor in questions such as how close they are to main roads, railway lines and urban areas, how accessible is their land to the public, what condition trees are in that border roads and paths and also whether the business is supplying food products that meet all of the required health and regulatory standards. To safeguard businesses, it is recommended that farmers and growers should speak to their insurance advisers for a risk review.
Serious Injury Claims Advice
At Bakers we pride ourselves on our experience and success in representing claimants who have been seriously injured through no fault of their own, helping them to receive the compensation and rehabilitation that they are properly entitled to. Our professional, friendly team will give you an honest, free and 'plain English' appraisal of your claim and we love to delight our clients when they receive the injury compensation they deserve.
If you would like us to handle your personal injury compensation claim, you can contact us online or by phone on 01252 744600 Read about some of our compensation claim success stories or key stages to making a claim.
With a full and thorough review, the farm business can safeguard against potential eventualities with more appropriate levels of Public and Product Liability and Employers' Liability cover.