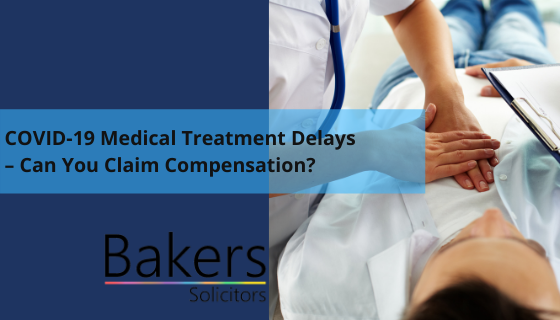 One of the significant side effects of the COVID-19 pandemic in the UK has been the delays caused to a wide range of medical treatments and surgical procedures as healthcare resources and staff have been re-allocated to the 'front line' to combat the virus. With the NHS has been under severe pressure for much of the past 12 months, NHS England has reported that as of January this year, delays and service suspensions have resulted in around 4.7 million people waiting for treatment to begin. Representing close to 10% of the entire population of England, this waiting list is by far the highest since records began in 2007. These delays have impacted all areas of healthcare and have left many wondering what their legal rights are if their treatment has been delayed due to COVID-19.
In addition to delays in treatment to potentially life-threatening conditions such as cancer and heart disease, many more patients have found themselves added to waiting lists for non-urgent (also referred to as 'elective') surgeries, which includes procedures such as knee replacements or non-urgent vascular treatments. For many such procedures, the sooner the patient completes the surgery or treatment, the better their prospects are for a decent, long-term recovery. Whilst waiting for a treatment date, some of these patients may well experience levels of pain and discomfort that are severe enough to affect their ability to carry on with their daily lives. In particular, being unable to work at a time when many employees have been laid off or on furlough can bring added stresses and pressures that often compounds the problem.
Many will have heard stories of how a patient is admitted for a planned surgery only for it to be cancelled – sometimes only an hour or so before the start time – as hospital resources and staff are re-allocated to deal with emergency patients. With the effects of 'Long COVID' still uncertain and with many patients still requiring hospital treatment for COVID related conditions, it is likely that a similar juggling of priorities will remain in place for the next 6 months at least.
Your Rights and Financial Compensation
In terms of NHS treatment, a patient must be initially referred to the hospital by their GP. The only exception to this is where someone requires urgent medical attention, and in this case, they would go to a hospital's A&E department. When being referred to a hospital for treatment by your GP, depending on where you live in the UK (regional variations in rules may apply) you may also be entitled to go to any NHS hospital that provides the required service.  You also have the right to choose the consultant or team that will be providing the service, subject to your GP agreeing that the choice is appropriate. In addition, you are also entitled to seek a second opinion once you have seen the first hospital consultant.
When it comes to compensation for a delayed procedure or surgery, this usually is only available if a patient can prove that the delay in their treatment is a result of negligence on the part of the hospital or healthcare provider. Every case is different, and expert medical evidence would need to be obtained to assess both a claims value and its prospects of success. If the evidence is sufficient, compensation may be payable for the additional months of pain, suffering and loss of amenity that the patient has suffered. In addition, should a patient's injury or condition have worsened due to a delay that results in a more complex procedure than would have otherwise been required together with a resultant worse prognosis and related inability to work, then the patient may also be entitled to compensation for these additional injuries and financial losses.
Injury Compensation Claims Advice
At Bakers we pride ourselves on our experience and success in representing claimants who have been injured through no fault of their own, helping them to receive the compensation and rehabilitation that they are properly entitled to. Our professional, friendly team will give you an honest, free and 'plain English' appraisal of your claim and we love to delight our clients when they receive the injury compensation they deserve.
If you would like us to handle your personal injury compensation claim, you can contact us online or by phone on 01252 744600 Read about some of our compensation claim success stories or key stages to making a claim.
With a full and thorough review, the farm business can safeguard against potential eventualities with more appropriate levels of Public and Product Liability and Employers' Liability cover.