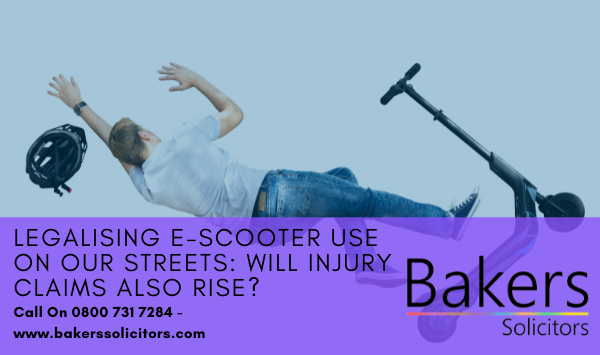 Anyone living in a large city in the UK over the past few years will undoubtedly be familiar with how popular the use of E-scooters as a means of transport has become, despite their use on a public highway being illegal. However, following trials of rental E-scooters that commenced in parts of London last year and are now set to be extended and widened in scope, many health and safety experts and solicitors are now predicting a rise in injuries and claims for both E-scooter riders, pedestrians, and other road users.
E-scooters are essentially the same as a traditional, human-powered scooter but with a rechargeable electric motor powering the rear wheel. Small, relatively cheap to buy and run and easy to park and store, E-scooters are a tempting alternative to cars or public transport for many city dwellers. Current UK law in most areas prevents the use of electric scooters on public roads and pavements, but this does not seem to have restricted their popularity.
National retailer Halfords recently reported a 184% increase in sales year on year in November 2020. Research into E-scooter use covering 2,000 adults in the UK also shows 16% of respondents claim to own an electric scooter already. Also, should E-scooters become legal to ride on public roads, 33% of respondents said they would consider using one for a shorter journey, with 28% saying they would consider swapping their car for an E-scooter to 'benefit the environment.' Current legislation states that it is illegal to ride privately owned e-scooters on public roads, although this law seems to be widely ignored, even with offenders facing a £300 fine and six points on their licence. 
E-Scooter  Injury Concerns
From 7th June 2021, highway use of rental E-scooters (use of private E-scooters will continue to be restricted) will be allowed as part of an extended trial in the London boroughs of Hammersmith and Fulham, Kensington and Chelsea, Canary Wharf, City of London, Ealing and Richmond upon Thames, with Lambeth and Southwark also likely to join the trial soon. Up to 150 E-scooters will initially be available to rent in each borough, with scheme operators being allowed to increase their fleets if they show 'strong performance'. Transport for London, the body overseeing the trial, has set safety standards that are tougher than those set out at a national level, with a lower maximum speed of 12.5mph, lights at the front and the rear of the E-scooters, and audible warning systems. Riders, who must keep to roads and in cycleways, rather than pavements, will also need to take an online safety course before hiring for the first time. 
Some law firms and solicitors have already seen increased claims for injuries caused by E-scooter accidents and collisions. One report indicates that since the initial, small-scale trial started in July 2020, there have been more than 70 injuries in London alone. In addition, with E-scooters being so accessible, there have also been reports of riders colliding with pedestrians whilst under the influence of alcohol or drugs. Confusion around the overall legality of the use of E-scooters does not help, with calls to implement a more uniform, nationwide approach governing elements such as maximum speeds, parking and storage and training requirements.
Injury Claims Advice
At Bakers, we pride ourselves on our experience and success in representing claimants who have been injured through no fault of their own, helping them receive the compensation and rehabilitation they are appropriately entitled to receive. Our professional, friendly team will give you an honest, free and 'plain English' appraisal of your claim, and we love to delight our clients when they receive the injury compensation they deserve.
If you would like us to handle your personal injury compensation claim, you can contact us online or by phone on 01252 744600 Read about some of our compensation claim success stories or key stages to making a claim.