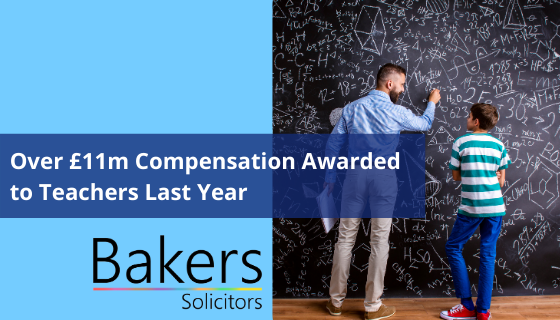 Figures released recently by teaching union NASUWT have shed light on the types and amount of compensation that was paid to teachers in England during 2021 for a wide range of claims including assault and personal injury.
In total, just under £11.8m in compensation was paid over a twelve-month period, representing almost £1m per month in England alone. The total includes more than £345,000 in compensation paid out for 13 personal injury claims where teachers had been assaulted by pupils, students or parents. In one case, a female teacher at a Cheshire school was awarded £155,100 following an attack carried out by a primary school pupil. The teacher in question was injured following the incident where, having asked a misbehaving pupil to get on with their work, the admonished child then jumped up, grabbing her neck and then her right hand, twisting her wrist and digging his finger into her arm. The assault left the teacher shocked and with ligament damage to her wrist, hand and fingers.
Assaulted by Student
In a separate incident, a special needs teacher in Plymouth was attacked after being threatened by a student on a number of occasions. The assault, by a student with autism who had also already threatened to kill the teacher on several occasions, resulted in the teacher suffering from head and back injuries having been put into a headlock by the student. The unnamed 48-year teacher continues to suffer from flashbacks from the assault and was awarded £85,000 in compensation.
The 2020 compensation total also included £162,000 for unlawful discrimination claims, £170,000 for unfair dismissal and £65,000 for redundancy related claims. In commenting on the statistics and the emotional, physical and mental distress, an NASUWT spokesperson said:
"There is no doubt that many other teachers will have been driven out of the profession without proper redress for poor, discriminatory or unfair treatment because they were too fearful to come forward or believed nothing could be done…Too many employers believe they can act with impunity as the Government fails to take any action to secure compliance with employment law, allowing poor employment practices to flourish as a result of the excessive freedoms and flexibilities it has given to schools."
Injury Claims Advice
At Bakers we pride ourselves on our experience and success in representing claimants who have been injured through no fault of their own, helping them to receive compensation that they are properly entitled to. Our professional, friendly team will give you an honest, free and 'plain English' appraisal of your claim and we love to delight our clients when they receive the injury compensation they deserve.
If you would like us to handle your personal injury compensation claim, you can contact us online or by phone on 01252 744600 Read about some of our compensation claim success stories or key stages to making a claim.