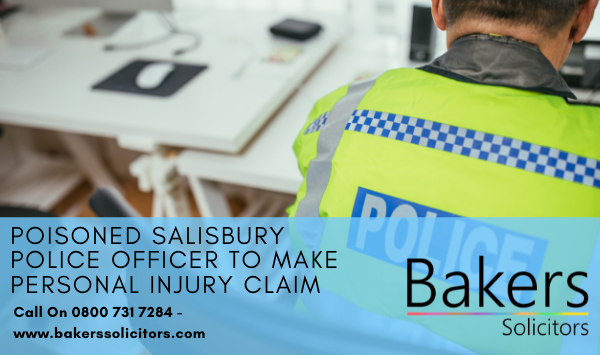 A police officer who was severely affected as a result of the notorious and widely reported poison attack in Salisbury in 2018 is in the process of making an injury compensation claim against his former employers, Wiltshire Police.
Nick Bailey, who was a detective sergeant at the time of the poisoning, was left fighting for his life in hospital having been exposed to Novichok, the highly toxic nerve agent used in the attack. Bailey, who had been serving with the Wiltshire Police force for over 15 years at the time, touched the lethal nerve agent when opening the door of the suburban home of Russian double agent Sergei Skripal and his daughter Yulia. Rapidly falling ill and having been rushed to hospital, the father of two then spent two weeks in intensive care.
The Skripals themselves miraculously survived the attack but Dawn Sturgess - who later came into contact with a discarded perfume bottle believed to have contained the nerve agent – sadly died in July 2018. Two Russian agents, known under the aliases Ruslan Boshirov and Alexander Petrov, were accused of travelling to the Salisbury and smearing the Novichok toxin on the door of the Skripals' home. Having been captured on CCTV the day before the attack, they claimed they had only been in Salisbury to visit the cathedral and see its spire. The UK government later concluded they were members of Russia's intelligence agency, a conclusion strongly denied by the Russian government.  
Following a period of recovery, Bailey made 3 unsuccessful attempts to return to work, with the former officer citing recurring problems with depression and memory loss meaning that he 'couldn't deal with being in a police environment'. He was eventually medically retired by Wiltshire Police in October 2020. Following commencement of Bailey's recent injury claim in the High Court, which is being made under 'accidents at work' legislation against Wiltshire Police chief constable Kier Pritchard, his solicitor commented:
"Our client experienced a trauma which had a devastating effect on his family and forced him to leave the job he loved after more than 18 years of loyal service…We hope to come to a resolution very soon, so he and his family can move on with their lives."
So far, there has been no comment on the case by Wiltshire Police.
Accidents at Work - Impartial Claims Advice
At Bakers we pride ourselves on our experience and success in representing claimants who have been injured at work through no fault of their own, helping them to receive compensation that they are properly entitled to. Our professional, friendly team will give you an honest, free and 'plain English' appraisal of your claim and we love to delight our clients when they receive the injury compensation they deserve.
If you would like us to handle your personal injury compensation claim, you can contact us online or by phone on 01252 744600. Read about some of our compensation claim success stories or key stages to making a claim.