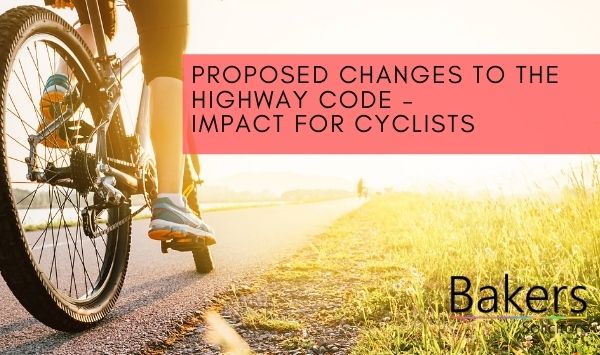 Proposed changes to The Highway Code – Impact for Cyclists
The Department for Transport ("DfT") has recently confirmed that they will spend a huge £338m from Government to boost cycling and walking as a preferable mode of transport across the country. The funding is aimed at encouraging the public to make better choices towards sustainable modes of transport in order to improve air quality and create greener cities.
As part of this the DfT has recently reviewed and intends to make amendments to the Highway Code which was originally established in 1931.
The Highway Code sets out information, advice, guides and mandatory rules for road users in the United Kingdom. The code's primary purpose is to promote road safety. As a child in the UK, you may have completed a cycling proficiency course which educates and is based upon the rules set out in the Highway Code. This course helped to build confidence in young cyclists, by following established guidelines when considering cycling on a road.
The new Highway Code is set to include a "hierarchy of road users" which makes sure that anyone who could do the most harm whilst in a vehicle, are considered to have the "greatest responsibility to reduce the danger they may pose to others". The hierarchy will be, in order of priority: pedestrians; cyclists; horse riders; motorcyclists; cars/taxis; vans/minibuses, with large passenger and heavy goods vehicles at the bottom. Those at the top of the hierarchy are, therefore, quite rightly those considered most vulnerable to injury, including cyclists.
The proposed amendments relating to cyclists and other vulnerable road users can be found here:
The level of detail in the proposed revision of the Highway code for cyclists will be of great assistance in establishing liability in the unfortunate event that you are involved in an accident with a motorist.
At Bakers we pride ourselves on our experience in representing claimants who have been injured through no fault of their own, helping them to receive compensation that they are properly entitled to. Our professional, friendly claims team will give you an honest, free and 'plain English' appraisal of your claim and we love delighting our clients when they receive the injury compensation they deserve.
If you would like us to handle your personal injury compensation claim, you can contact us online or by phone on 01252 744600.