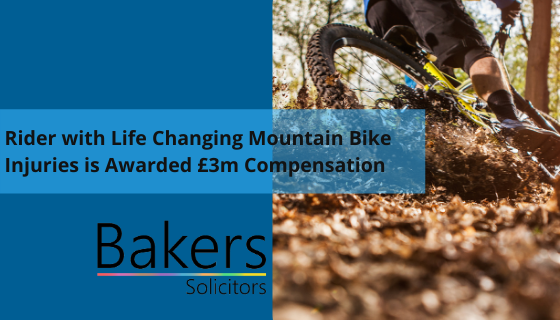 An unnamed man has recently been awarded £3m in injury compensation following a mountain bike race accident that left him with severe, life-changing injuries.
The accident, which happened during an organised mountain bike race event ten years ago, left the rider with severe injuries including catastrophic brain damage which resulted in him becoming 'functionally blind'.  The rider, who has not been named during a recent hearing at the high court in London, was in his mid-20's at the time of the incident. During the high court hearing, which was held virtually due to the current Covid restrictions, judge Mrs Justice Eady heard how the man had fallen from his bike having ridden over the crest of a hill and leaving the ground. Travelling at an estimated 35mph at the time, the rider subsequently crashed, hitting his head on a log at the side of the course.
The hearing also heard how the incident had left the man confined to a wheelchair and needing 24/7, full-time care. The claim for damages was made against the organisers of the race event by relatives of the injured man. The settlement amount was agreed in court between lawyers representing the man's relative and the race organisers and was approved by Justice Eady.
Cycling Injury Claims Advice from Bakers Solicitors
At Bakers we pride ourselves on our experience in representing claimants who have been injured by an accident whilst cycling through no fault of their own, helping them to receive compensation that they are properly entitled to. Our professional, friendly team will give you an honest, free and 'plain English' appraisal of your claim and we love delighting our clients when they receive injury compensation they deserve.
If you would like us to handle your personal injury compensation claim, you can contact us online or by phone on 01252 744600.