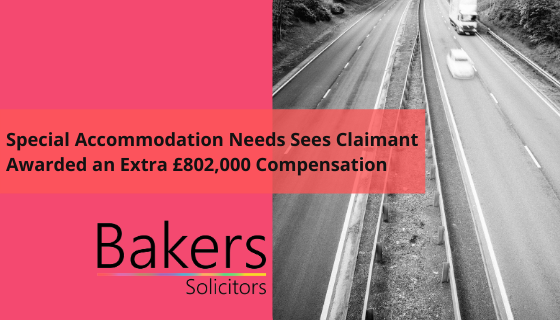 In what many personal injury solicitors are hailing as a landmark ruling by the Court of Appeal, a woman who was severely injured in a road accident in 2013 has recently been awarded an additional £802,000 in compensation to cover the cost of purchasing the larger, more suitable home needed due to the nature of her injuries.
The additional financial award was made to Charlotte Swift who in August 2018 had already been awarded over £4 million in damages by the High Court following an accident on the M5 motorway in October 2013 which resulted in her losing part of her leg. Having suffered crush injuries to both feet and lower legs, doctors had to amputate her left leg below the knee. Since then, Ms Swift has had ongoing difficulties, including phantom limb pain in the amputated foot, as well as suffering from a severely damaged right foot.
Ms Swift, 46, had originally claimed against the insurers of her husband who had been driving at the time of the accident. However, in the original High Court judgement, Justice Lambert ruled that Ms Swift was not also entitled to the additional sum to fund the purchase of a more suitable house. Ms Swift subsequently appealed this decision and Appeal Court judges Lord Justice Irwin, sitting with Lord Justice Underhill and Lady Justice Nicola Davies, found in her favour, awarding her an additional £801,913.
Appeal Court Ruling
The original High Court ruling in 2018 had followed a formula set out in a previous court ruling in 1989, meaning that Ms Swift would "recover a nil award" in respect of the additional capital cost of any special accommodation. In commenting on the subsequent Appeal Court decision, Lord Justice Irwin said it was his view that "in the context of modern property prices and a negative discount rate" the formula set out in the 1989 ruling "no longer achieves fair and reasonable compensation for an injured claimant". The Court also heard how Ms Swift was "a very active and sports-oriented individual and has made sustained efforts at rehabilitation". Following the new ruling, Ms Swift said in a statement:
"I'm absolutely delighted with today's result and so relieved and thankful that the judicial system has come to the right conclusion. Thanks to this decision, thousands of people will benefit in the future: children who suffer brain injuries at birth, cyclists who lose limbs due to a road collision and many others who sustain life-changing injuries through no fault of their own."
A spokesperson for Ms Swift's legal team added:
"This was an overwhelming triumph for somebody who deserved nothing less after everything she has been through…Charlotte's tenacity and ability to trust her legal team in the face of overbearing pressure from a truly David v Goliath situation, and the threat of crushing legal costs consequences was astonishing."
Injury Claims Advice
At Bakers we pride ourselves on our experience and success in representing claimants who have been injured through no fault of their own, helping them to receive compensation that they are properly entitled to. Our professional, friendly team will give you an honest, free and 'plain English' appraisal of your claim and we love to delight our clients when they receive the injury compensation they deserve.
If you would like us to handle your personal injury compensation claim, you can contact us online or by phone on 01252 744600 Read about some of our compensation claim success stories or key stages to making a claim.