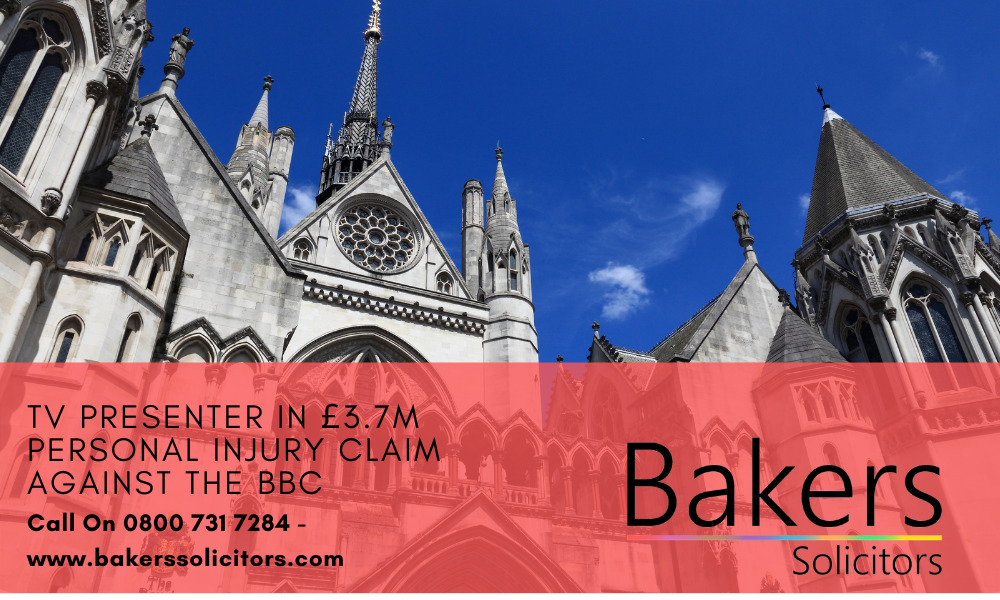 Personal Injury Claim against the BBC
Popular former TV presenter Jem Stansfield is in the process of making a claim for personal injury damages against the BBC following a feature on a TV show that resulted in significant and long-term injuries.
Jem Stansfield is a former engineer and TV presenter best known for presenting the BBC One show 'Bang Goes the Theory'.  Stansfield, 46, has a degree in aeronautical engineering and is best known for his approach to testing scientific theories including driving from London to Manchester in a car fuelled by coffee granules and using vacuum cleaner assisted gloves to climb a 10-metre-high vertical wall.
However, having participated in an experiment on the show in 2014 in which he agreed to take part in a rapid deceleration test as a 'human crash-test dummy', Stansfield suffered several injuries including whiplash and brain damage. The experiment, which saw Stansfield strapped into a specially designed wheeled sled which was then catapulted into a solid object designed to represent a car colliding with a lamppost, also resulted in persistent dizziness and long-term psychological scars.
Court Hearing
As a result of his injuries, Mr Stansfield is claiming £3.7m in damages. With the TV presenter having lost his 'stellar' TV, writing and presenting career following the life-changing injuries and with the potential to have earned similar sums to major TV stars such a Jeremy Clarkson and James May, a large proportion of his claim is based on lost future earnings.
In the details of Stansfield's claim lodged at London's High Court, his legal team state that the experiment, designed to test the effects of g-forces and impact on a person's body, left him with 'soft tissues injuries to the structure around the spine' in addition to 'subtle brain injury' caused by 'the repeated acceleration/deceleration forces generated by the crash tests.' Medical evidence also presented describes Stansfield's condition as 'complex', with possible additional vascular or carotid injuries. In a statement to the court regarding his client's condition at a recent pre-trial hearing, his barrister Marcus Grant said that: "Mr Stansfield struggled to fight on after the accident and then went off work and into a cycle of decline in 2014. There is acceptance on all sides that he is a very unwell man."
The pre-trial hearing also heard that whilst liability in the case had already been agreed, the BBC had only offered to pay two thirds of the claims value, with the reduction designed to reflect Stansfield's own contributory negligence. In defending the claim, the BBC is also strongly disputing the degree of Stansfield's injuries and the actual impact that they have had on his professional life. In contesting the claim, the BBC's legal team stated that they "require (Mr Stansfield) to prove that the unusual array of symptoms of which he complains arose from disabling organic brain damage, vestibular or whiplash injuries and/or disabling psychological injuries in the crash tests".
The case is due to return to court for a full trial and damages assessment later this year. 
Injury Claims Advice
At Bakers we pride ourselves on our experience and success in representing claimants who have been injured through no fault of their own, helping them to receive compensation that they are properly entitled to. Our professional, friendly team will give you an honest, free and 'plain English' appraisal of your claim and we love to delight our clients when they receive the injury compensation they deserve.
If you would like us to handle your personal injury compensation claim, you can contact us online or by phone on 01252 744600. Read about some of our compensation claim success stories or key stages to making a claim.