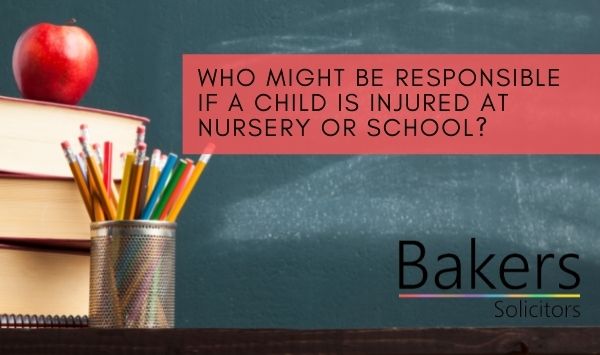 When we send our children to school or nursery we do of course expect them to be kept safe. 
Whilst accidents can occur, and there is no preventing that, when we send children in our care off to nursery or school there is a high duty of care upon those to whom then take on that responsibility.
Nurseries and schools have a duty to prevent accidents and to keep their pupils safe in education. The government issue statutory guidance on this which can be found here:
https://www.gov.uk/government/publications/keeping-children-safe-in-education--2
Further, there is a legal responsibility to keep all visitors invited onto any premises reasonable safe when using those premises under the Occupier Liability Act 1957. As your child will have been invited onto premises in order to attend a school or nursery, and knowing the unpredictable behaviour of children and the associated risks that brings, the educating authority must have taken all reasonable steps to prevent a foreseeable accident. This will include following the statutory guidance set out in the link above.
Accidents in Schools and Nurseries
There are a wide number of risks for pupils on nursery or school grounds including sports related accidents, injury caused by faulty equipment, a trip or fall on the grounds and bullying or unruly fellow pupils (lack of supervision).
If you or your child is unfortunate enough to suffer an injury it is important, but not essential that this is reported to a member of staff and recorded. This will assist with any subsequent claim as the details will be formally recorded. It's also important to seek medical attention following the accident.
If your child is injured it is likely that there is some liability on the school and it is possible to claim compensation.
Injury at School Solicitors 
At Bakers we pride ourselves on our experience in representing claimants who have been injured through no fault of their own, helping them to receive compensation that they are properly entitled to. Our professional, friendly claims team will give you an honest, free and 'plain English' appraisal of your claim and we love delighting our clients when they receive the injury compensation they deserve.
If you would like us to handle your personal injury compensation claim, you can contact us online or by phone on 01252 744600.