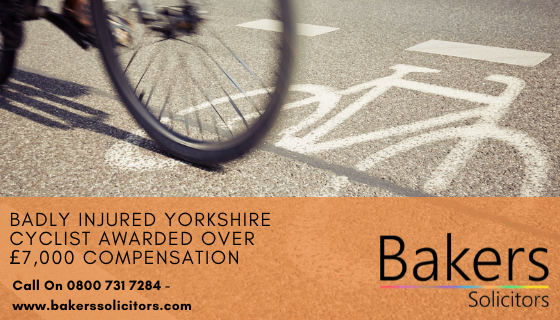 Cycling Accident Compensation
A keen recreational and commuter cyclist who suffered serious injuries following a collision with a car has recently been awarded compensation totalling more than £7,200.
The cyclist, Edward Forth, was cycling home from work in Leeds city centre in October 2019 when he was struck by a car at a junction. The collision resulted in the 34-year-old being sent crashing through the side window of the car, causing severe injuries including a broken collar bone, knee and ankle injuries and various skin abrasions and bruising. His injures required hospital treatment, and he was unable to cycle to work again for more than two months.
In making a claim for compensation, experienced cyclist Forth – who uses cycling as his primary mode of transport – described how he always takes extra, pro-active safety measures when cycling in the gloomy and wet autumn weather, including his use of additional bike lights and hi-vis clothing. The cyclist recalled:
"I was cycling home from work, a route I've been doing for the past five years. I was keeping within the designated lane for cyclists and buses. It was rush hour in the city centre and the cars were all sat in a traffic jam…As I was coming along the cycle lane a car pulled out of a side street directly into my lane in front of me. I went into the side of the car and my shoulder went through the driver's side window."
Highway Code & Law
Forth also emphasised that as a regular and experienced urban commuter cyclist, he ensures that he keeps up to date with the Highway Code and ensures he is always visible to other road users. Commenting further on the incident, he added:
 "The driver had pulled out into a yellow box as if it was his right of way. There weren't any other cars in the box as they were all sat in traffic. He claimed not to have seen me, despite me being in extra hi-vis clothing and lights. He was under the impression that he was right to have been in the yellow box, blaming me.
"Misunderstood rules which are there for the protection of cyclists can lead to serious injury and consequences…I was off work for two weeks and then worked part-time for a further fortnight. Due to my job involving a fair amount of physical work moving equipment, I couldn't fulfil my role to its maximum capacity for several months."
Following the successful claim and award of compensation, Mr Forth's solicitors said:
"There's a lot of emphasis on the cyclist to protect themselves and make themselves seen. In this case, Edward had done everything in his power to avoid anything happening and it still did…It was purely down to the driver not knowing the rules of the road. Motorists need to ensure that they are up to date with the road laws, respecting and making space for cyclists."
Cycling Injury Claims Advice from Bakers Solicitors
At Bakers we pride ourselves on our experience in representing claimants who have been injured by an accident whilst cycling through no fault of their own, helping them to receive compensation that they are properly entitled to. Our professional, friendly Cycling Accident Claims team will give you an honest, free and 'plain English' appraisal of your claim and we love delighting our clients when they receive injury compensation they deserve.
If you would like us to handle your personal injury compensation claim, you can contact us online or by phone on 01252 744600.