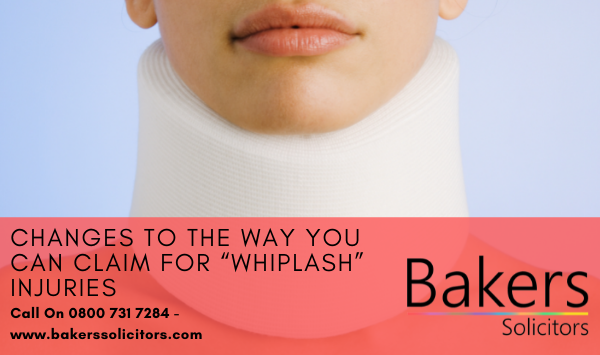 Whiplash Injury Claims
If you are unfortunate enough to be involved in a Road Traffic Accident on or after the 31st May 2021 the Government has introduced reforms in the way that you can claim for your injuries, but only those suffering what is known as a Whiplash Injury.
So what is a "whiplash injury".  The Government, in their legislation, have defined this as:
"a sprain, strain, tear, rupture or lesser damage of a muscle, tendon or ligament in the neck, back or shoulder, or an injury of soft tissue associated with a muscle, tendon or ligament in the neck, back or shoulder"
What are the whiplash claim amounts?
The changes only apply to you if you have been injured whilst a driver or a passenger in a motor vehicle. If you are a motorcyclist and pillion/sidecar passenger, cyclist, pedestrian, horse rider or injured whilst using a mobility scooter the new rules do not apply to you. These reforms were brought in on the propaganda of helping to protect car drivers, but in fact, they are prejudicial to car drivers because if you receive a whiplash injury whilst driving, you will now receive significantly less compensation than had you been a cyclist because your compensation will now be based upon a tariff set by the government, that being:
| | |
| --- | --- |
| Not more than 3 months | £240 |
| More than 3 months, but not more than 6 months | £495 |
| More than 6 months, but not more than 9 months | £840 |
| More than 9 months, but not more than 12 months | £1,320 |
| More than 12 months, but not more than 15 months | £2,040 |
| More than 15 months, but not more than 18 months | £3,005 |
Injury Following a Car Accident 
So, if you are in pain for 3 months as a result of a road traffic accident whilst a car driver you will receive £240. This compares to around £1500 if you had been a cyclist. If you are in pain for a year with whiplash injuries, then you will receive £1320 compared to around £3500 had your accident been before 31st May, or if you are a motorcyclist.
Further, you will not be entitled to recover any legal costs in making a claim so if you do wish to make a claim you will have to pay solicitors fees yourself, which is likely going to be more than the value of your claim. This obviously makes making a claim very difficult for claimants who likely be facing experienced claims handlers from the insurance industry without legal representation.
It is clear that the main driver for the reforms is to make claims of this nature too difficult to make. The savings to the insurance industry will be vast whilst genuinely injured motorists will be left either inadequately compensated or most likely not compensated at all.
A new Portal has been set up for Claimants to make claims directly against other drivers insurance companies, and this can be found here:
https://www.officialinjuryclaim.org.uk/
Do you need help with an injury suffered in a Road Traffic Accident?
At Bakers we pride ourselves on our experience in representing claimants who have been injured in a Road Traffic Accident through no fault of their own, helping them to receive compensation that they are properly entitled to. Our professional, friendly road accident claims team will give you an honest, free and 'plain English' appraisal of your claim and we love delighting our clients when they receive the injury compensation they deserve.
 If you would like us to handle your personal injury compensation claim, you can contact us online or by phone on 01252 744600.