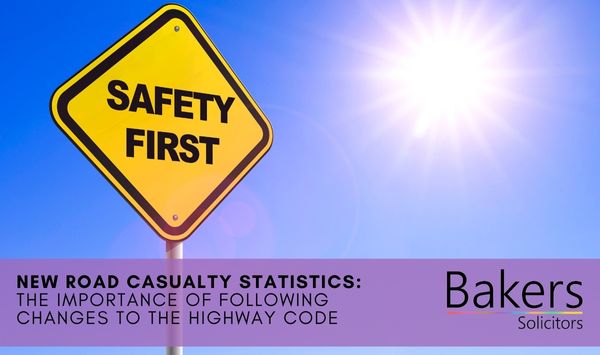 In a recent road casualty report, released by the Department for Transport at the end of November, the latest provisional estimates show that reported road casualties for the year ending June 2022 seem to be falling to pre-pandemic trends. Due to lockdowns during 2020 and 2022, the publication compares estimates for the year ending June 2022 with those for the year ending June 2019, which is the most recent equivalent pre-pandemic year.
Reported Road Casualties for the year ending 2022
Figures within these released estimates, shows the number of personal injury road traffic casualties in Great Britain that were reported by the police in the year ending June 2022 using the STATS19 reporting system. In the year ending June 2022, there were an estimated:
1,760 fatalities in reported road collisions, a 4% decrease compared with the year ending June 2019 (that is, pre-pandemic levels)
29,804 reported killed and seriously injured (KSI) casualties, a decrease of 6% compared with the year ending June 2019
137,013 reported casualties of all severities, a decrease of 12% compared with the year ending June 2019
These figures are provisional as they will change following the end of year validation process.
Changes to the highway code
The changes to The Highway Code aim to help improve road safety for people walking, cycling and horse riding and have been publicised by the Government during Spring and Summer 2022. The Code sets out a hierarchy of road users, with those who can cause the most harm having the greatest responsibility to protect others on the road.
Initial figures in the provisional road casualty report are showing a possible decline in road casualties during the year running up to 2022. However, the Road Safety Week campaign, which ran from 12-20th November, emphasised the importance of everyone following changes to the highway code in the hopes that road users can prevent further unnecessary road casualties.
Road Safety Week is organised by Brake, the road safety charity and sponsored by Arval UK, DHL Supply Chain and VisionTrack. Brake also supports the Department for Transport's THINK! campaign.
Brake chief executive Mary Williams OBE said: "Road crashes devastate families who are bereaved and seriously injured. Road Safety Week is an opportunity for everyone – including drivers, and also employers, and community leaders – to come together and make roads safe for all, particularly the most vulnerable. Drivers can follow the Highway Code; slowing down and giving people space is vital for safety. Employers can implement safe driving policies for their employees. Community leaders can work with their local authorities for measures that protect people, such as cycle paths. Road casualties are an appalling carnage that can and must end, through us all taking the right steps."
Road Traffic Accident Solicitors
Most road traffic collisions occur because one driver was negligent — perhaps they were driving too fast, carelessly, or recklessly. Expert legal advice is essential if you have been in a road traffic accident (RTA).
Bakers Solicitors combine expert legal advice through our experienced case handlers with a commitment to client care and the use of cutting-edge technology. If you would like us to handle your personal injury compensation claim, you can contact us online or by phone on 01252 744600.